Specializing in
environmental,
geological,
geotechnical,
groundwater,
surface water,
remediation,
waste management and
leachate pumping and control engineering,
as well as computer and GIS solutions in these fields.
"Providing expert service to our clients since 1986"
PLEASE CONTACT US AT:

Benjamin P. (Ben) Doty, P.E.
Doty & Associates, LLC
5303 West Oberlin Drive
Denver, Colorado 80235

(303) 725-4330
bpdoty@dotyeng.com
RESUME OF BENJAMIN P. DOTY, P.E.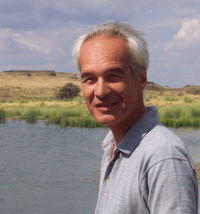 EDUCATION
M.S., Civil Engineering, Geotechnical, University of California at Berkeley, 1978.
Graduate and Undergraduate Studies, Geological Engineering, Colorado School of Mines, 1974-77.
B.A., English Literature, Whitman College, 1974.
PROFESSIONAL EXPERIENCE: More than twenty-five years of geotechnical, groundwater and environmental engineering, specializing in the design and construction of dewatering systems, waste disposal facilities, remedial systems and surface water control structures, in groundwater chemistry, and in saturated and unsaturated groundwater flow.
Doty & Associates, LLC, 1986 - present, Principal. Landfill design & monitoring; subsidence evaluations; design of run-off retention systems; evaluation of the extent of diesel fuel, solvent and metals contamination; design, operation and decommissioning of remedial systems including french drains, subsurface walls, pump-and-treat, biovents, air-sparge, soil vapor extraction, and gradient control; voluntary cleanup applications; technical expert in legal proceedings; Phase I and II environmental assessments.
Hydro-Search, Inc., 1984-86, Senior Engineer & Manager of Engineering. Technical & managerial control of Denver office project work including landfill siting, design and monitoring; sludge sampling for RCRA closure; Part B application for Rocky Flats plant; assessment of 48th & Holly Superfund site; and evaluations of lead smelting facilities.
Golder Associates, Inc., 1979-84, Intermediate and Senior Engineer. Waste disposal, mining and water rights hydrology. Projects involved several uranium tailings facilities, oil shale and uranium mining operations, and RCRA closure plan.
Other Positions
D'Appolonia Consulting Engineers, 1979, Geotechnical Engineer
Woodward-Clyde Consultants, 1978-79, Staff Engineer
Lawrence Berkeley Laboratory, 1977-78, Geological Engineer
Ark Land Company, 1976, Junior Geologist
PROFESSIONAL PARTICIPATION: Professional engineer in Colorado & California. Member of Tau Beta Pi, National Ground Water Association, American Society of Civil Engineers, American Chemical Society, and the Solid Waste Association of North America. Co-author of publications on hydrologic testing techniques and groundwater chemistry. Lecturer on solid waste management at the University of Denver, groundwater contaminant transport (to the environmental engineering group at a confidential client), and on packer testing techniques (to the Colorado Department of Public Health & Environment).